$100.00 certificate for purchase of loose gemstones that are in stock. Stones Throw Gallery has hundreds of loose gemstones on display; Garnet, Amethist, Aquamarine, Tourmaline, Ruby, Peridot, Opal, Citrine, Turquois, Agate, and much more. Come check out the newly "Re-Imagined" gallery look! The gallery has been redesigned with a new look, more room to view the beautiful jewelry and art, and new jewelry display cases. Stop by the Big Blue House and take a peek!
If you are passionate about seeking out the best of southern Minnesota's local and regional artists, or if you want to forge a personal relationship with the goldsmith who can bring your custom jewelry dreams to fruition, stop by the gallery.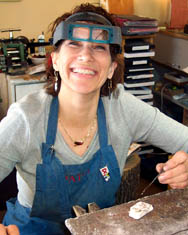 If you are curious about gemstones, I love showing my samples, telling their stories, and dreaming with you about your perfect ring, bracelet, pendant, or gift.
Artwork for everyone: we have everything from hand-made cards to beautiful original framed artwork and custom gold jewelry.
No cash back. No cash value. No credit given. Limit 1 per customer, per visit.